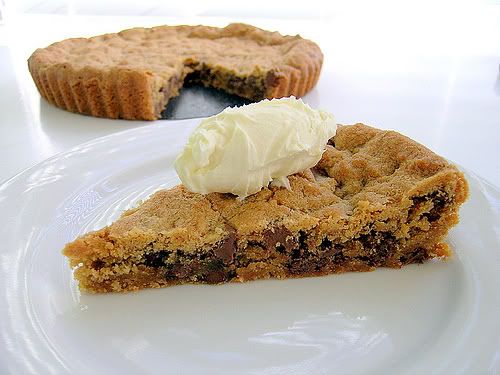 Got Milk?
After enjoying all the decadent dessert recipes posted for Valentine's Day,
maybe you're craving some good old-fashioned cookie dough
like me.
This is a cross between a cookie and a cake, or even a pie if you prefer. But who cares what it's called,
it's awesome!
Ingredients
3/4 cups of butter
1/4 cup smooth peanut butter
1-1/4 cup milk chocolate chips
1 cup plain flour
1-1/2 teaspoons baking powder
1/4 teaspoon salt
1 cup light brown sugar
1 teaspoon vanilla extract
1 large egg
Method
1. Preheat your oven to 350 F.
2. Whisk together the flour, baking powder, and salt in a medium bowl. Set aside.
3. Cream the butter, peanut butter, light brown sugar, and vanilla extract using a stand mixer or a hand mixer on medium speed, about 1 minute.
4. Set the mixer speed to high and beat the ingredients for 15 seconds. Stop the mixer and scrape down the sides of the bowl.
5. Add the egg and blend on medium speed for 30 seconds.
6. Add the dry ingredients to the wet and combine on low speed.
7. When just a few dry streaks remain, add the chocolate chips and mix for a few seconds.
8. Transfer the batter to a greased and lined 10-inch round cake pan. Press batter into a smooth and even layer.
9. Bake until lightly golden and puffy around the edges 18 - 22 mintues. The center should still be quite soft.
10. Cool cake for 10 minutes. Run a paring knife around the edge of the pan to release.
11. Cool an additional 4 hours before turning the cake out of the pan onto a serving plate.
Find More Recipes
1. Ult. Rec. Swap (Thurs) at
Life as Mom

2. Weekend Wrap-Up (Fri) at
Tatertots & Jello

3. Gallery of Favs (Fri) at
Premeditated Leftovers

4. Foodie Friday at
Designs by Gollum

5. Friday Swap at
Grocery Cart Challenge
6. I'm Lovin' It (Fri) at
TidyMom

7. Free for All Fri at
Sassy Sites

8. Strut Your Stuff (Sat) at
Six Sisters Stuff

9. Sunday Showcase by
Stephanie Lynn

10. This Week's Cravings (Mon) at

Mom's Crazy Cooking

11. Tasty Tues at
Beauty and Bedlam
12. Tues Talent Show at
Chef-in-Training
13. W-F-M-W at
We Are THAT Family
Photos: jamieanne (
Flickr
)
Recipe via
Almost Bourdain