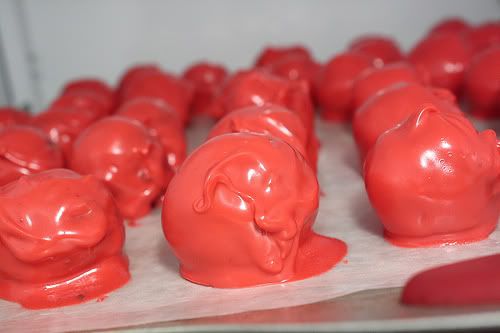 "I made oreo balls tonight for my niece's birthday party this weekend. She's having a Minnie Mouse party, so I thought the red would be fitting. The red is I guess a vanilla flavor ... I melted a bag of those red candy [baking] wafers you buy at Hobby Lobby. It's not really chocolate, I don't think....but it's yummy. And cute!"—ladybugbkt @ Flickr
Are They Cookie Balls or Truffles?
Whatever you call them, this confection is for the child in all of us!
If you enjoyed making
red velvet cake balls
for Christmas or Valentine's Day, then you'll love making these easy Oreo cookie balls too. Get your kids
(or grandkids) involved in the kitchen on any Saturday afternoon.
I'm offering three variations on this super easy recipe: red vanilla (above), almond chocolate or dark chocolate.
The bright red ones were orginially created for a
Disney Minnie Mouse birthday party.
So cute! Directions are quoted below the image.
Ingredients
• 1 package of double stuff Oreo cookies
• 8 oz. block of cream cheese
• chocolate almond bark, dark chocolate or
red vanilla baking wafers
Method
Crush the Oreo cookies into very small, fine crumbs.
Mix with one block of cream cheese and roll into balls. Melt chocolate in a bowl over hot water, then roll each ball into the chocolate until it's fully coated. Set the Oreo balls on wax paper until chocolate hardens.
Try not to eat the entire batch in one sitting!
Is Hospitality on Your Mind?
Get your FREE tipsheet, "30 Delicious Dessert Minis" plus much more when you sign up for our newsletter. Enter your e-mail: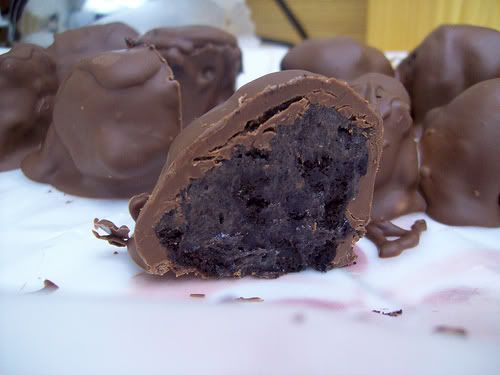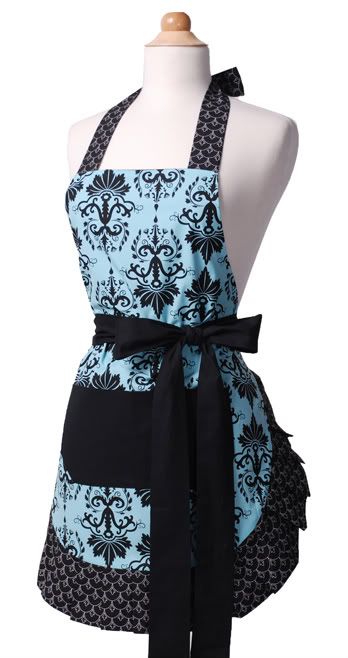 Find More Recipes
1. Ult. Rec. Swap (Thurs) at
Life as Mom

2. Weekend Wrap-Up (Fri) at
Tater & Jello

3. Gallery of Favs (Fri) at
Premed Leftovers

4. Foodie Friday at
Designs by Gollum

5. Friday Swap at
Grocery Cart Challenge

6. I'm Lovin' It (Fri) at
TidyMom

7. Free for All Fri at
Sassy Sites

8. Strut Your Stuff (Sat) at
Six Sisters Stuff

9. Sunday Showcase by
Stephanie Lynn

10. This Week's Cravings (Mon) at

Mom's Crazy Cooking

11. Tasty Tues at
Beauty and Bedlam
12. Tues Talent Show at
Chef-in-Training
13. W-F-M-W at
We Are THAT Family
Adapted Recipe & Photos: ladybugbkt
(1 & 3) rocknroll_guitar (2) from
Flickr
Coupons