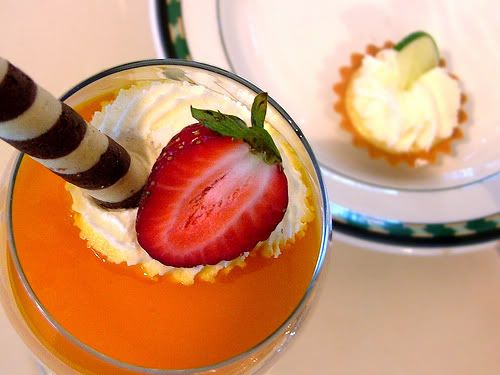 Papaya-Mango Smoothie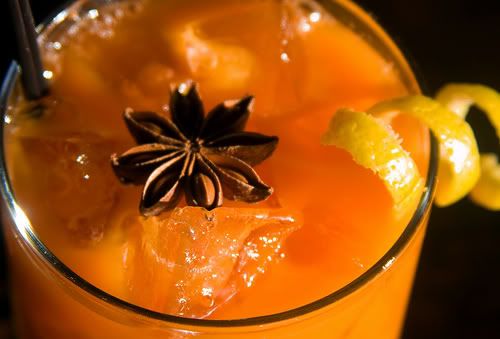 Breakfast Orange Juice
Watermelon Soup with Crabmeat & Avocado
Butternut Squash Soup with Tomato Puree
Strawberry Margarita
Make Your Hot Soups & Chilled Drinks Really Sing!
Presenting or "plating" food is an entire art form unto itself.
When entertaining, you can elevate any chilled beverage or soup course to restaurant status with the quick addition of a garnish or two.
When serving cocktails or starter soup to your dinner guests,
consider adding a "Wow Factor" with these ...
• Sliced citrus (lemons, limes, oranges)
• Sprigs of fresh herbs
(cilantro, rosemary, sage)
• Whole or grated spices
(star anise, cinnamon sticks, nutmeg)
• Fresh berries (strawberries, raspberries, blueberries)
• Whipped cream, sour cream, or grated cheese
• Balsamic vinegar or red wine
• Sliced green onions or chives
• Sesame seeds or chopped nuts
Is Hospitality on Your Mind?
Get your FREE tipsheet, "30 Delicious Dessert Minis" plus much more when you sign up for our newsletter. Your e-mail:
Photos: aurapadgett, JoshuaDavis, rdPeyton, JoanaHard, nerdling (
Flickr
)
Find More Recipes
1. Works-for-Me-Wednesday at
We are THAT Family

2. I'm Lovin' It (Fri) at
TidyMom

3. Free for All Fri at
Sassy Sites

4. Strut Your Stuff (Sat) at
Six Sisters Stuff