Let's Kiss in the Kitchen!
Did you know that Valentine's Day falls on a Tuesday this year?
Wouldn't we all enjoy the work week a lot more, if we ate our breakfast cereal from heart-shaped bowls like this!
However, if you'd rather savor your Valentine's celebration,
why not celebrate over the weekend?
Let the kids spend the night at Grandma's on Sunday, sleep in, and
prepare a leisurely A.M. repast for two.
Here are some ideas to make your
2012 Valentine's Day Breakfast Celebration
a memorable one.
Click images for prices more information.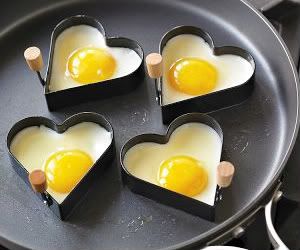 2. Heart-Shaped Eggs

"I got these for my girlfriend. She loved them. ...Use a non-stick spray with them or you will have to cut the eggs out. Also, I like to crack the egg into them, but don't break the yolk at first. This gives the egg a little time to cook on the bottom, so if there isn't a seal, less spills out."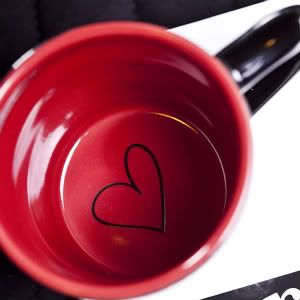 3. DaySpring's Mr. & Mrs. Love Collection

With a Scripture mug, you can celebrate Valentine's Day with your favorite beverage and a Christian message. Combine the Mr. mug with the Mrs. mug, and you have a fun gift for couples of any age. Inside Mr. and Mrs. Mugs: "I found the one my heart loves." (Song of Sol. 3:4)
4. Heart-Shaped Waffles
"This is a very nice waffle maker. It has two settings. One for a moisty inside (for my husband) and one for crispy all the way (for me). My toddler likes the hearts... It has different settings for darkness and beeps when ready. I use it to make whole wheat waffles with soya milk and without eggs."—Wanda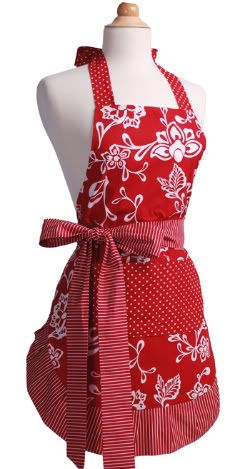 5. Sassy Red Breakfast Apron

"The 1st time I wore this apron, my husband walked in the door from work, looked at me with wide eyes and said "Wow- that is s*xy." I was sold!"—Andrea

"I would absolutely recommend this to a friend. In fact, I purchased the apron as part of a housewarming gift for my sister-in-law. She LOVES it! The fabric was great and so was the pattern and fit. I should buy myself one next."
—Farha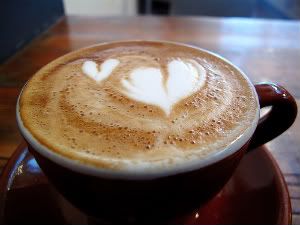 6. Green Mountain Coffee K-Cups, Golden French Toast

"I tried this coffee in the holiday multipack (came with Spicy Eggnog, Gingerbread & Holiday Blend, too). Despite the flavor mix, my kitchen smelled predominantly like the Golden French Toast. I ran out of this flavor first and was saddened there wasn't more. I was excited to see it sold own it's own and quickly blew through another box. This is such a tasty flavor, and I love the smell of it brewing!!! This is a must have flavor."—April
7. Heart-Shaped Breakfast Casserole

"I've used my Le Creuset enameled cast iron cookware for over 10 years; I'd be lost without it. The excellent heat retention and even heat distribution allow you to cook over low-medium heat; you'll save energy and your cookware will last longer. But who am I kidding?—I bought my Le Creuset pans because they're pretty and oh so French!... the heart shaped red pan with lid is my favorite Le Creuset piece. It would make a great Mother's Day or Valentine's Day gift; then again it would make a wonderful present to yourself!"—Mia
8. Sweetheart Rose Breakfast Muffins
"I bought the Nordicware Sweetheart Rose Muffin/Cake pan since I bake a lot of muffins and wanted a more "professional" appearance.... makes 12 1/2 cup roses in intricate detail, including rosebuds and leaves. I use Baker's Joy to grease the pan before baking, and add a light dusting of confectioner's sugar to the finished muffins/cakes... Cleaning is a snap: normally, there is no batter left in the pans, ever with all the nooks and crannies..."—Veggiechiliqueen
9. Breakfast Berries

"The Best Strawberries Ever! I received an email from Sharis Berries about their mouth-watering Strawberries. The Strawberries on their website were simply awesome! The different candy, nut and coconut covered toppings were different and tempting. So I ordered a dozen. They came to me fresh and delicious looking. I will buy these strawberries again and again, for no reason at all, except that they are a special treat that I deserve every now and then."
—Rnb4evr
10. Very Cherry Breakfast Apron

"I love this apron! it is soooo cute and comfy. it didn't show that the ties are long enough to wrap around to create a 'belt' on the advert, but when i looked at the actual website then i saw what they did with the ties and realized why they're so long. i love it! i talk on the phone with my headset while i'm cooking and the little pockets are great for holding the phone, so i don't have to keep watching out for the cord. super cute, i want the black one now as well. Great product-thank you!"
—Donna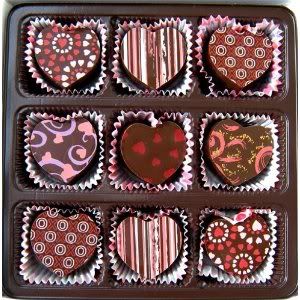 11. Heart-Shaped "Breakfast" Truffles

"My wife loved these truffles. They are good looking and they taste great. It was a Valentine success."—Michael Bigger

12. Heart-Shaped Breakfast Muffins

"This is a perfect size for muffins, rolls, individual cakes, etc. It washes well. The items pop right out. Would recommend it in a heart beat. Loved it so much I want to order a few more."—IBEATSARS2X

Which do you like the best?