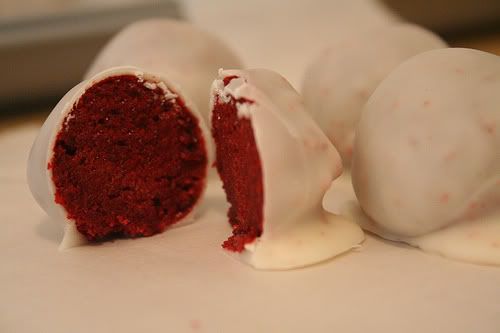 White & Dark Chocolate
Whether you call them "cake balls" or "truffles," the flavor is the same
...
these sweet confections are delicious and festive.
I have an ongoing (fatal!) attraction to any variation on red velvet. So I'm going to try
this easy recipe from Bakerella
for my family this Christmas.
Bakerella says,

"I first tasted these two years ago at a Christmas party and immediately had to have the recipe. It's based on a mix, but I imagine you can follow the same directions substituting from scratch cake and frosting (I'll try that one day). You can also try it with other cake combinations."
Ingredients
• 1 box red velvet cake mix (bake as directed for 13 x 9 cake)
• 1 (16 oz.) can cream cheese frosting
• 1 package chocolate bark, regular or white chocolate
• wax paper
Method
1.
Crumble the cake into a large bowl after it is baked and cooled.
2.
Add 1 can of cream cheese frosting and combine thoroughly. (Some cooks find it easier to use their bare hands to mix these two ingredients together. Could be a ton of fun for kids!)
3.
Roll cake and cream cheese mixture into balls the size of a quartr and place on a cookie sheet. (Yield should make 45-50.)
4.
Chill cake balls for several hours in refrigerator. (Or put them in the freezer to speed up the process.)
5.
Melt white or dark chocolate in microwave as directed on the package.
6.
Using a spoon, roll balls in the chocolate tapping off the extra. Let them set on wax paper until firm.
7.
Decorate with sprinkles or crumbs when balls are still soft, or drip melted chocolate across the them.
Note:
Work with only a few pieces of melted chocolate bark at a time.
It's easier to coat the cake balls with when it's hot.
Is Hospitality on Your Mind?
Get your FREE tipsheet, "30 Delicious Dessert Minis" plus much more when you sign up for our newsletter. Your e-mail: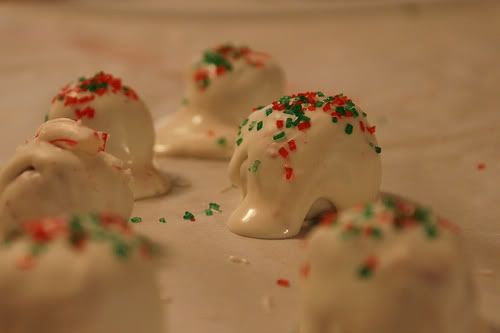 Find More Recipes
1. W-L-W Wed. at
Women Living Well
2. W-F-M-W at
We Are THAT Family

3. Ult. Rec. Swap (Thurs) at
Life as Mom

4. Weekend Wrap-Up (Fri) at
Tat & Jello

5. Gallery of Favs (Fri) at
Premed. Left.

6. Foodie Friday at
Designs by Gollum

7. Friday Swap at
Grocery Cart Challenge

8. I'm Lovin' It (Fri) at
TidyMom

9. Free for All Fri at
Sassy Sites

10. Get Schooled Sat by
Too Much Time
on My Hands

11. Strut Your Stuff Sat by
Six Sisters' Stuff

12. Sunday Showcase by
Stephanie Lynn

13. This Week's Cravings (Mon) at

Mom's Crazy Cooking

14. Tasty Tues at
Beauty and Bedlam
15. See
More Links
Photos: MakeWayForCupcakes (1) BradTrumpPhotography (2) at
Flickr
Coupons