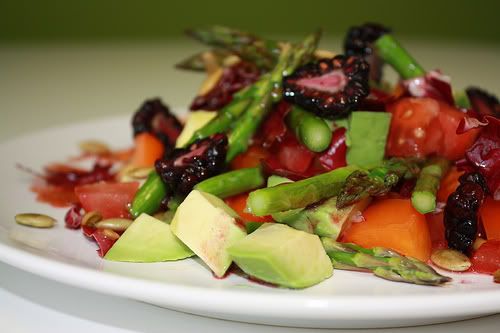 The Magic is in the Mingling
Ladies love going to lunch! Have you ever noticed?
There's a French creperie not far from our house.
Every time I walk by, I notice stylish pairs of women tete-a-tete, leaning over sweet and savory crepes or quiches.
Bon appétit, certainnement!
But not particularly waistline-friendly.
If you like to invite your friends home for lunch (as I do), then no doubt you're on the look-out for healthy salad recipes that are both slimming and filling.
The following salad promises both.
With these fresh ingredients, you'll impress your guest, and create a luncheon date the two of you will fondly remember.
"Let it be said at once that there is no mystery to making good, palatable soup, and even the more obtuse among us can turn a few leaves of lettuce into a creditable salad with a dash of oil and vinegar. But the magic is in the mingling."—Ray's Boathouse Restaurant (Seattle) Cookbook
Ingredients
1 1/2 CUP chopped tomatoes
1 CUP asparagus, chopped
1 orange bell pepper, chopped
1/2 head of radicchio
2 avocados, chopped
2 TBSP lime juice, freshly squeezed
1/2 CUP pumpkin seeds
10 blackberries
Blackberry Vinaigrette
10 blackberries, halved
1 minced shallot
1/3 CUP EFA Antioxidant Oil Blend
2 TBSP red wine vinegar
1 TBSP organic maple syrup
1 TBSP lime juice, freshly squeezed
Method
1.
In a large bowl, combine tomatoes, asparagus, orange pepper, and radicchio. Toss avocados with lime juice and fold into salad.
2.
Use a strainer to separate blackberry pulp and seeds from juice. Wisk together blackberry juice, minced shallot, EFA oil, red wine vinegar, maple syrup and lime juice.
3.
Drizzle desired amount over salad, top with pumpkin seeds and halved blackberries.
Recipe Via:
In the Vega Kitchen
More Blackberry Salads to Tempt and to Tease
Saucy Chard & Fruit Salad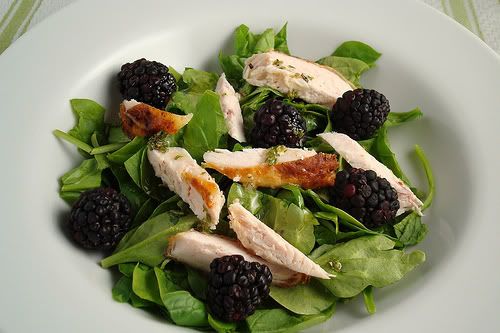 Chicken Blackberry Salad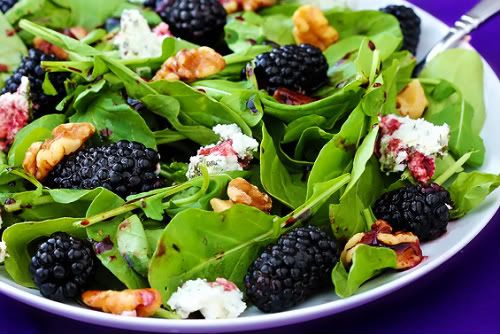 Blackberry Spinach Salad
Photos: VegaTeam, wockerjabby, simpraim (
Flickr
) & Reluctant Entertainer
Find More Recipes
1. Full Plate Thurs at
Miz Helen's Country Cottage
2. Ultimate Recipe Swap (Thurs) at
Life as Mom
3. Gallery of Favs at
The 21st Century Housewife
4. Friday Potluck at
Ekat's Kitchen
5. Friday Swap at
Grocery Cart Challenge
6. Fusion Fridays at Jane Deere
7. Sunday Showcase Party at
Under the Table & Dreaming
8. Mouthwatering Mon at
A Southern Fairy Tale
9. This Week's Cravings (Mon) at
Mom's Crazy Cooking
10. Slightly Indulgent Tuesdays at
SS&GF
11. Tasty Tues at
Beauty and Bedlam
12. Tempt My Tummy Tues at
Blessed w/ Grace
13. W-F-M-W at
We Are THAT Family
14. Let's Do Brunch (Wed) at
The 21st Century Housewife

Perfect for celebrating summer's end. Wouldn't you agree?