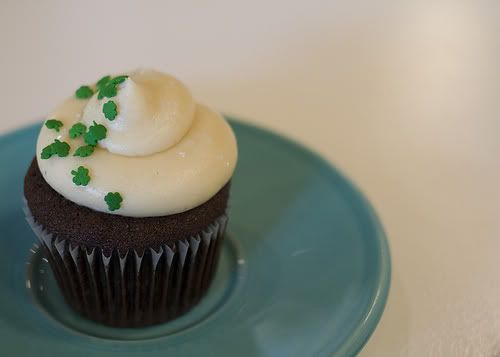 St. Patrick's Day Cupcakes ... for Grown-Ups
Most evangelicals are shaky when it comes to our knowlege of church history.
We're especially weak when it comes to the lives of the saints. If you would like to satisfy your curiosity about the hoopla surrounding
St. Patrick's Day, check out this article
"Who Was the Real St. Patrick?"
To my great surprise, I found out there is good reason to celebrate the life of this shepherd-slave turned Christian missionary every March 17.
And there's no better way to celebrate St. Patrick's Day than with a batch of tempting chocolate cupcakes!
However, lest you think that cupcakes are for "girly girls" and children, think again.
Eaten in moderation (of course) this version will please even the manliest man in your household.
Happy Saint Patrick's Day!

Guinness Chocolate Cupcakes with Bailey's Irish Cream Frosting
Cake
2 cups stout (such as Guinness)
2 cups (4 sticks) unsalted butter
1 1/2 cups unsweetened cocoa powder (preferably Dutch-process)
4 cups all purpose flour
4 cups sugar
1 tablespoon baking soda
1 1/2 teaspoons salt
4 large eggs
1 1/3 cups sour cream
For preparation directions,
click here.
Easy Irish Cream Frosting
8 ounces cream cheese, at room temperature
4 tablespoons butter, at room temperature
3 cups powdered sugar
3-4 tablespoons Irish Cream liqueur (such as Bailey's)
In a medium bowl, blend together cream cheese, butter, and liqueur. Gradually add powdered sugar, mixing until all ingredients are incorporated well.
Use immediately.
Via Food.com.
Find More Recipes
1. Full Plate Thurs. at
Miz H's
Country Cottage
2. Ult. Recipe Swap Thurs at

Life as Mom
3. Weekend Wrap-Up (Fri) at
Tat & Jello

4. Foodie Friday at
Designs by Gollum

5. I'm Lovin' It (Fri) at
TidyMom

6. Free for All Fri at
Sassy Sites

7. Strut Your Stuff (Sat) at
Six Sisters
8. Sunday Showcase at
Under the Table
9. Cupcake Tues. at
Hoosier Homemade
10. W-F-M-W at
We Are THAT Family
Photos: ChrisBlakeley (1 & 3) heylovedc, QuintanaRoo (
Flickr
)

What are you making for Saint Paddy's Day this year?