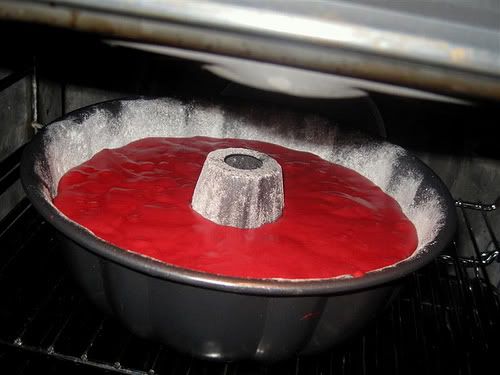 Sweets for Your Sweetie
Have you noticed Red Velvet Cake turning up everywhere?
Spilling across the Mason-Dixon Line, this Southern dessert has migrated into the bakeries and coffee shops of mainstream America.
I've seen red velvet layered cakes, cupcakes, bundt cakes,
cake pops, pancakes and
even ice cream. Just yesterday, way up here in the Pacific Northwest,
I noticed Red Velvet yogurt
in the dairy section
of our grocery store! (It was pink and tasted like raspberries.)
One informed Foodie
insists that
authentic Red Velvet Cake must contain the following essentials.
• The cake must have some
cocoa—but not too much
because it's a devil's food cake, not a chocolate cake.
• The cake must have
red food coloring.
(Beet juice does not achieve the right tone
of red.)
• It must be topped with
cream cheese frosting.
• It should be garnished with
chopped pecans.


• You must use
White Lily flour,
a Southern specialty flour.
•
Precise measurements
and meticulous attention to detail are key for this cake.
• To ensure proper rising, you must use a
hand-held electric mixer,
instead of a stand mixer which can over-mix the batter.
• The batter needs
vegetable oil
to yield a moist cake, not butter or shortening.
Creative Red Velvet Cakes
For Valentine's Day, I'm thinking about making individual sweetheart

Rose-Shaped
Red Velvet Cakes OR Mini Red Velvet Bundt Cakes
using this
Southern chef's recipe.
It contains all the
essential ingredients for an authentic cake listed above.
Happy Valentine's Day!

What's your favorite variation on Red Velvet?
Photos: HBArt, rishibando, YourHauness, TalesofanLAAddict, popartichoke, Stanchfield (
Flickr
)
Coupons