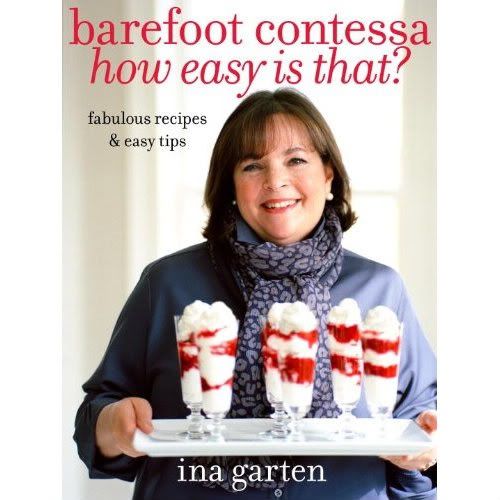 A New Cookbook for the Holidays
Are you a Food Network watcher? If not, that's O.K! I don't watch very much TV either.
However, maybe you're aware of Ina Garten, one of TV's favorite sweethearts. She's also known as the Barefoot Contessa.
A few years ago, I came across the Barefoot Contessa's wonderful cookbooks, literally through the back door.
House Beautiful magazine featured her Manhattan apartment,
which looked cozy and well-appointed.
Burnt orange velveteen draperies framed an enormous window in Ina's living room.
She was photographed standing beside her fireplace. Hanging above it was a dramatic sepia-toned photograph of a woman with a long braid of hair.
Ina's galley kitchen was small, but filled with everything a hostess would need,
including a collection of gleaming silver hotel serving ware. And then my questions began in earnest…
Who was this astute and perky chef known for her time-saving recipes, a line of specialty baked goods, and a devoted husband named Jeffrey?
If you're as curious as I was, you can
read Ina Garten's biography
and discover more about her rise to stardom. In many respects, she reminds me of Julia Child—with her love of French cooking, her long (childless) happy marriage, and her successful career on camera.
Content Summary
I bought and have thoroughly enjoyed The Barefoot Contessa Cookbook.
Now Ina has released a brand new kitchen companion in time for the holidays.
One reviewer
says this about her latest book,
Barefoot Contessa: How Easy is That?
"Ina proves once again that it doesn't take complicated techniques, special equipment, or stops at more than one grocery store to make wonderful dishes for your family and friends.

These are not recipes with three ingredients thrown together in five minutes; instead home cooks will find fantastic Barefoot Contessa recipes that are easy to make but still have all that deep flavor that Ina is known for—and that makes a meal so satisfying.

To top it off, Ina shares her best tips for making cooking really easy. She shows us the equipment that makes a difference to her—like sharp knives, the right zester, an extra bowl for her electric mixer—that can help you in your kitchen too.

Filled with 225 gorgeous full-color photos, this is the perfect kitchen companion for busy home cooks who still want fabulous flavor."
Six of Ina Garten's Best Cooking Tips
•
The party is only as happy as the host.
I learned this the hard way at one of the first parties I ever threw. It was a brunch, and I decided to make omelets for everyone. I never got out of the kitchen—and I didn't have another party for a year. I tell people when they're hosting to make a menu out of recipes you know really well and to pick up something at the bakery for a great dessert.
It's a much better party if the food is simple and you're relaxed.

•
Having a man who can cook is overrated.
My husband, Jeffrey, makes the coffee, that's it. It's more important to have one person who cooks and another person who appreciates it.
•
Even better than chicken soup for the soul:
Homemade tomato soup and grilled cheese, with grown-up cheeses like Gruyère and extra-sharp cheddar. I made this for a friend recently who was upset and hadn't eaten in a week. She devoured it!
•
Food tastes best when it's properly salted.
That means salting it a little at a time throughout the entire cooking process, not just at the end. It enhances the flavor of whatever you're cooking and makes food taste seasoned—not salty.
•
Gratitude is the best hostess gift.
I always send flowers or a note the next day to express my appreciation.
•
Cook with your heart!
They say that gardens look better when they are created by loving gardeners rather than by landscapers, because the garden is more tended to and cared for. The same thing goes for cooking. I only cook for people I love.
Tips quoted from
Redbook Magazine
.
Your Personal Shopper
If you're looking for some new inspiration for your holiday entertaining
—or a Christmas gift for an accomplished home cook, Ina Garten's
How Easy is That?
is well-worth considering.
Click here for pricing and shipping information.
SUBSCRIBE: Did you enjoy this recipe?
If you subscribe to my RSS Feed, you won't miss a single update.